Russia RUS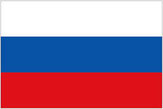 Information
For most common series I have load up max. 3 pictures. From these series I have usually many more pictures in my collection.
Normal plates 1994
Normal plates 1994 without the Russian flag
Strange plate because since 2000 on all new plates the flag became mandatory but the moscow-code 197 were issued first in may 2010!
Motorcycle plates 1994
Trailer plates 1994
Transit plates 2010
Transit plates 2001
Public service plates 1994
Diplomatic plates 1994
T = technical assistance personnel
Remade issue for secret
Special issue in black